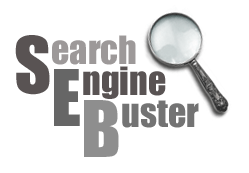 Search Engine Buster provides you with free, proven and trusted tips to help boost the rankings of your business web site with the main search engines.
The Search Engine Buster site comprises three general sections:
1. The Warm-Up...
Read this if you want to learn about:
what search engines are
the different types of search engine that exist
why you should worry about search engines in the first place!
2. Take Me Higher...
If you want to cut straight to the chase then go here for free advice about increasing your ranking with the search engines. You'll find everything from Title tweaking tips to advice on how best to manipulate your meta tags and construct your core keywords! (This page also contains links to the main search engines.)
3. What we can do for you...
While all the information provided here is free we do offer a number of useful and highly cost-effective services for which we charge reasonable and affordable fees. Rather than viewing these services as an expense they should be seen as investments, as parting with a little money now could easily reward you many times over when your business starts reaping the benefits of boosted search engine rankings and the escalating hits count that goes with it. Our services include:
search engine submission
web page / site optimisation
creation of gateway / doorway / jump pages
competitor analysis
search engine ranking audit of your web site
we are currently offering a SPECIAL DEAL where you cannot lose!
The pages on this site are updated on a regular basis so bookmark us and stay up to date with developments. You can join our email list as well, you will receive notification when the content of the site changes and also regular tips about marketing on the web and info about new ways to increase your ranking on the search engines.

Just enter you email address here and click the 'Send' button once - it's free to join and we won't pass your details on to anyone else.
---
---